Apple Dental & Implant Center is committed to providing you with the best possible Dental care. To do this, it is important that we do not allow your dental benefits to be the determining factor in the diagnosis. Your treatment will be based upon your dental needs. We assume that you are as concerned as we are about maintaining you excellent health.
Apple Dental & Implant Center accepts all insurance companies that allow you to go to the dentist of your choice. We accept insurance benefit consignment. This means we will estimate the expected insurance benefit payment based on the information we have and request you to pay your estimated portion at the time services are provided. However, we do not guarantee any estimates, and should your dental plan pay less than expected you are fully responsible for the balance. We take no responsibility for any denials by dental plans.
All fees are payable at the time services are rendered, unless prior arrangements have been made. Patients covered by insurance are expected to pay their estimated co-payments at the time services are rendered.
Payments may be made by cash, personal check, Visa, MasterCard, American Express, and Care Credit.
Payment plans are available through Care Credit – please ask for an application. Find out more at www.carecredit.com.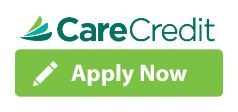 Please feel free to call or e-mail our office at any time with questions. We look forward to becoming part of your total health plan.
We may not always be able to answer specific questions about your dental plan, or predict what your level of coverage for a procedure will be. This is because plans offered by the same employer or written by the same third-party payer can vary according to the contracts involved. It is the patient's responsibility to know their coverage. Please remember your insurance policy is between you, your employer, and your insurance company. Apple Dental & Implant Center is not part of that contract.
The American Dental Association recognizes the important role dental benefits have played in improving access to dental care for millions of Americans and is working with insurance policy makers to help set better standards within the industry.
Your dental plan is designed to share in your dental care costs. It may not cover the total cost of your bill. Most plans cover between 50 to 80 percent of dental services.
For additional information regarding dental plans, contact the
American Dental Association
Council on Dental Benefit Programs
211 East Chicago Avenue
Chicago, IL 60611
dentalbenefits@ada.org
(312) 440-2746
*** We take CareCredit as a form of payment with interest free up to 1 year. ***